WELCOME TO DENVER
2006 Pre-GABF Party Pics
AND
10-10-2007 Party Announcement!!
October 10, 2007
Where: 2400 Curtis St., Denver, Colorado, 80205 USA, Earth
When: Wed., Oct. 10, 2007 6pm - Late (come for a little while or the whole nite!)
More details down a few photos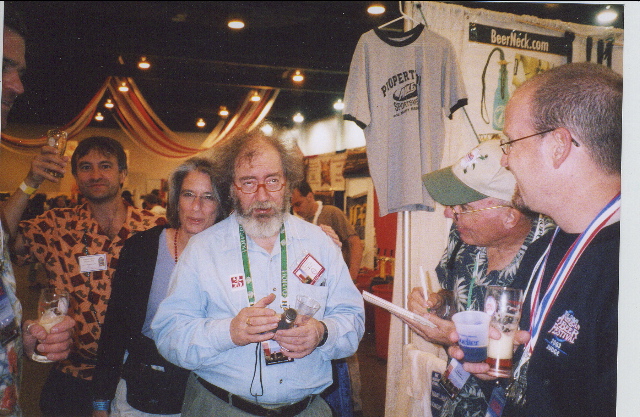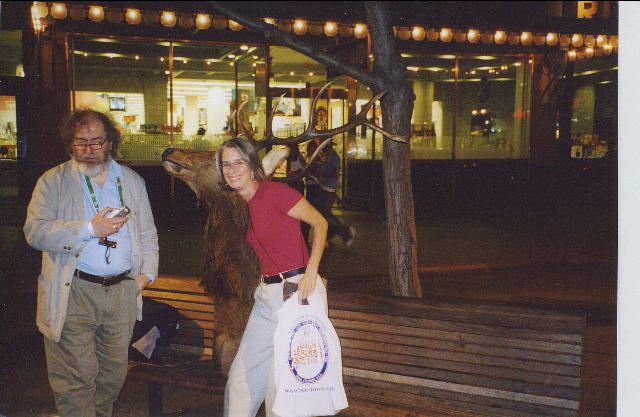 WITH A 9PM TOAST TO MICHAEL JACKSON, THE BEER HUNTER - RIP
And a further toast to John White of White Beer Travels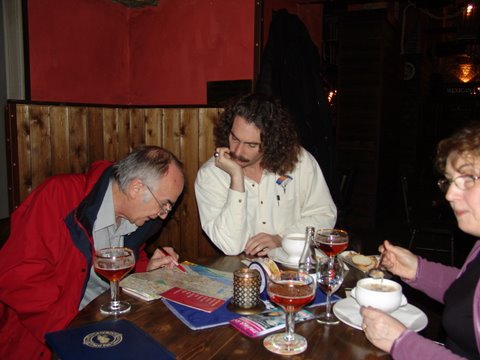 John White on left showing a beery location to (Beer Drinker of the Year) Ray in Antwerp
More John White and Europe pics at very bottom
Here's the building. Party will be on the 3rd floor. Follow the signs from the front door.
Parking: on street and at La Fiesta restaurant parking lot (it's closed on Wednesdays).
Logan Perkins contact: loganperkins@gmail.com
303 330-9739
Pics Above and Below are from 2006 Party
Thanks Dr. Bill for Beer and Cheese; Thanks Real Ale for some of Texas best beer!
TO BRING: Your local Belgian-style brews and/or real Belgian brews (e.g. Cantillon, Westys, Malheur, De Cam, St. Monon). Beers not found in Colorado (e.g. Southampton, Alesmith, aged Heavyweight, Capt. Lawrence, Sweetwater, Big Tony, Midnight Sun, 3 Floyds). One-off, aged, homebrewed, seasonal, monster brews in growlers, Famtomes, Jolly Pumpkins and other funky things, and beers that won't be at the GABF are especially welcome, or good brewery schwag! Flowers, nubiles, asprin, wheel chairs, blow up ewe, professors, Russian Impy Stouts, super balls, Schlitz Saison neon signs, funny hats, noise makers, krieks, barbershop quartets, etc. are welcome. A financial contribution towards snacks and clean up. Nibbly bits would be great (good bread and smooth or stinky cheese); some will be provided.
Note: We will have a few coolers with ice, but there is no fridge or stove accessible.
Bring your own cooler and ice if possible; also, bring your own glass or you'll get a plastic cup. Please pick up if you break anything. No puking on premises. Costumes welcome.
BREWERS INFO:
Beer donations from brewers is highly appreciated. Pass on by before or after your other engagements (e.g. the Wynkoop dinner). In 2006 we had beer from Boulevard, Bottleworks, Real Ale, Victory and others. For this year Boulevard is providing:
"The current lineup of Belgian influences are Saison, Saison-Brett, Tripel, a Quad, and a Quad with Oregon cherries aged in bourbon barrels."
Donations will offer you good exposure and can introduce world beer lovers to your regional specialty. Guests last year came from across the nation, Canada, England, Belgium, and Scandanavia. We can offer give-aways: coasters, bottle openers, t-shirts, posters etc. are welcome.
NEW DETAILS:
JUST ADDED FOR THE FEST:
A BARBERSHOP QUARTET...YEEHAA!!
Also, From Billski in San Diego: some fresh bottles of Mission Impecheable Lambic
AND, HOW ABOUT THIS BEER LIST FROM BRIAN FROM LONG ISLAND:
a Cave Aged Ommegang 02, a Cave Aged Rare Vos, a Cave Aged Hennepin, a 1st batch 3Philosophers, a new Southampton Grand Cru, an aged SH Grand Cru, a new Cuvee De Fluers, a 2003 Abbot 12,
a Heavyweight _____ (sorry, too exciting to put in print), a six point Bolshoi Imp Stout, a Capt Lawrence Dubble & Triple....oooooh...aaaaaahh!!!!
AND CHECK OUT THIS ADDITION FROM TEXAS:
"I will send you a 5 gallon keg of the Double Wit that we brewed
for the CBC last spring. I also have an 8 gallon keg of our latest
seasonal Roggenbier." - Tim of Real Ale Brewing
Beer and other items for this party the GABF can be sent to:
Logan Perkins
c/o Donna Feldman
305 E. Bayaud
Denver, CO 80209
(I don't live here but Donna Feldman graciously takes care of my mail and will accept your package - she doesn't drink either but is a life coach)
An RSVP would be useful but not critical. loganperkins@gmail.com
Map from Falling Rock to Party Synagogue - 10 block walk or cab ride
WHY: Exercise the liver in preparation for Thursday nights GABF session. Sample Good, Aged & Wild Beers! Socialization with Burgundian Babblers (http://www.babblebelt.com/board.html) Ratebeerians (www.ratebeer.com) BeerAdvocatians (www.beeradvocate.com) CouchSurfers (www.couchsurfing.com) and others from across the country and world! It's gonna be phantasmagoric!!
DRESS: Yes, you can dress, wear a dress, take off your dress, bring a Barbie in a short skirt, wear a tutu, etc. Weather at night could be in the 40s or colder Fahrenheit, enough to give Barbie goosebumps. Wear shoes if nothing else :)
Who's invited: Beer lovers and those hoping to learn more about beer. Brewers and reps with large trunks filled with too much beer.
Who's not invited: Winos off the street, foaming at mouth dogs, Gary Glitter, Karl Rove and Michael Vick.
##################################################################
Be Afraid...be very afraid!!
"They who drink beer will think beer."
-Washington Irving
"Prohibition makes you want to cry into your beer and denies you the beer to cry into."
-Don Marquis
Roof Zone
Where: 2400 Curtis St., Denver, Colorado, 80205 USA, Earth
When: Wed., Oct. 10, 2007 6pm Official Start
Thanks to Ron from Libations.

"The problem with the world is that everyone is a few drinks behind." -Humphrey Bogart

Mo Previous party pics:

2005: http://www.gr8city.com/beer-2005-gabf-sept28.htm
2004: http://www.priorities.org/beer-2004-Sept29-pre-GABF.htm
Thanks to Tom Doldorf (left) of the Celebrator for helping sponsor this 2006 party, and John (right) of Boulevard Brewing for a keg of Saison with Brett, among other goodies.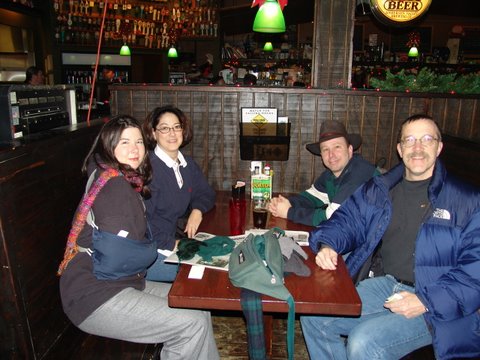 Thanks to Dick (far right) for financial assistance and co-hosting. Thanks to Diane (far left) for keeping Dick happy.
Thanks to Mick and Mara (not far right or left politically and in picture) for endless hospitality to me over the years.
"Make sure that the beer - four pints a week - goes to the troops under fire before any of the parties in the rear get a drop." -Winston Churchill to his Secretary of War, 1944
Scott Jackson's Brewery

"Sir, if you were my husband, I would poison your drink." - Lady Astor to Winston Churchill
"Madam, if you were my wife, I would drink it." - His reply
"People who drink light 'beer' don't like the taste of beer; they just like to pee alot."
-Capital Brewery, Middleton, WI
"Sometimes when I reflect back on all the beer I drink I feel ashamed - Then I look into the glass and think about the workers in the brewery and all of their hopes and dreams. If I didn't drink this beer, they might be out of work and their dreams would be shattered. Then I say to myself, 'It is better that I drink this beer and let their dreams come true than be selfish and worry about my liver.'"
-Deep Thought, Jack Handy
Logan Perkins with after party empties

"Without question, the greatest invention in the history of mankind is beer. Oh, I grant you that the wheel was also a fine invention, but the wheel does not go nearly as well with pizza."
-Dave Barry
"If you do not develop the hunger and courage to pursue your goal, you will lose your nerve and you will give up on your dream." - Les Brown (1945~) American Speaker, Author, Trainer, Motivator Lecturer
"Of course I'm an optimist. What's the point of being anything else?" - Sir Winston Churchill (1874-1965) British Prime Minister (1940-45, 51-55)
Falling Rock
Falling Rock Tap House
ColoraDUH des Rocs!!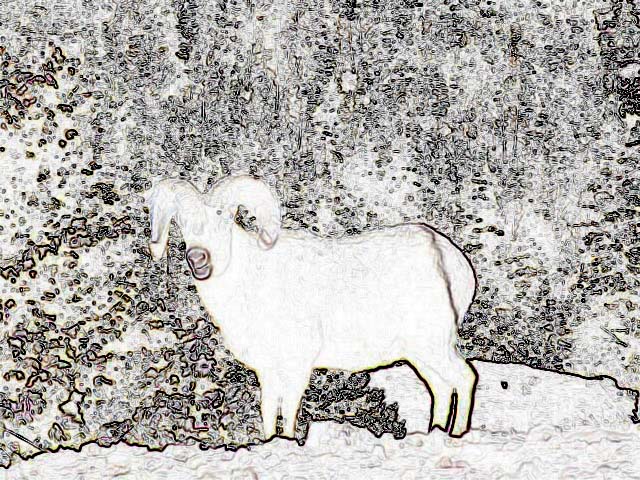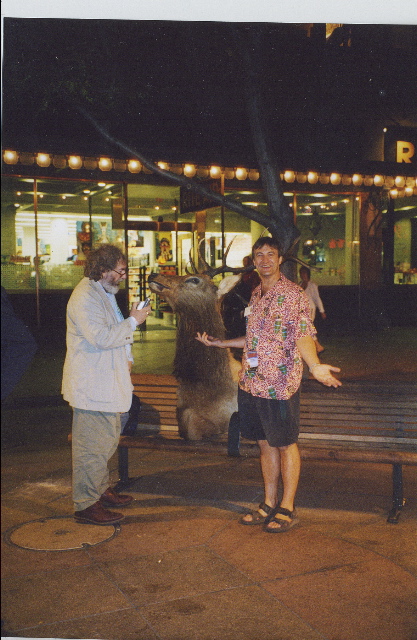 Michael Jackson interviewing an elk on 16th St. mall in Denver; Logan bemused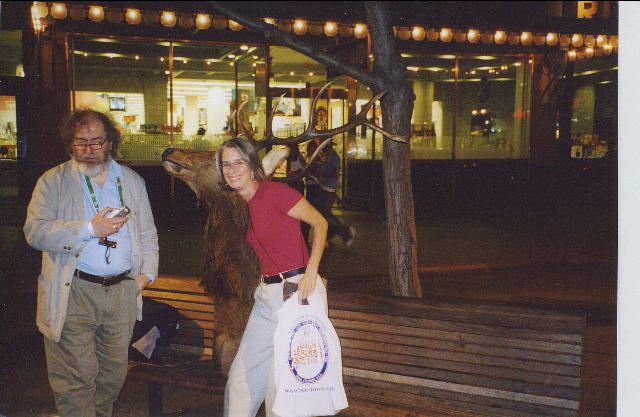 Back to da party!
| | |
| --- | --- |
| I'd rather have a bottle in front of me, than a frontal lobotomy. | Tom Waits |
"The easiest way to spot a wanker in a pub is to look around and find who's drinking a Corona with a slice of lemon in the neck."
-Warwick Franks
"I arise in the morning torn between a desire to improve (or save) the world and a desire to enjoy (or savor) the world. This makes it hard to plan the day." E.B. White
"Alas, it seems that alcohol consumption, like facial hair and atheism, are dealbreakers for the occupier of the Oval Office. Because, I suppose the logic goes, an American president must convey the image of being clear-headed and sober at all moments. Even a sip of wine at a state dinner would break that image, which is why I think press secretaries have made efforts to keep photos of American presidents consuming alcohol very limited. It's a far cry from the photos of Chirac, Blair and other Europeans in years past, big steins of beer in hand, enjoying a "cold frosty one," and endless bottles of wine or champagne at myriad occasions. And here we arrive at yet another difference between western cultures." From: http://rue89.com/2007/06/09/george-w-bush-beer-lover
"Take heed all you beer lovers. It is now a proven fact that beer -- yes, BEER -- can provide the same health benefits as wine. No matter what type of ale you prefer, studies show that drinking beer in moderation (up to 2 drinks a day for us guys) can and will reduce your chances of strokes, as well as heart and vascular disease."
From: http://www.askmen.com/sports/foodcourt/45_eating_well.html
Woody, the unforgettable bartender, and his regular customer Norm were icons in tvland's favorite bar Cheers. In real life Woodrow Tracy Harrelson owned a bar in Hollywood, one that served oxygen and vegan cuisine. Unfortunately, The Oxygen Bar was fairly short lived. Perhaps because they didn't serve beer? From: http://fermentingrevolution.com/mugshots.htm
Homer's razor sharp intellect is keenly honed in on prioritizing life's many tough issues. He realizes, as does the savvy Fermenting Revolution reader, that beer is life's raison d'etre. Consider some of his more insightful nuggets of wisdom:

"[Beer] is my way of life, and I aim to keep it." - Homer Simpson

"All right brain, you don't like me, and I don't like you. But let's just get me through this, and I can get back to killing you with beer." - Homer Simpson

From: http://fermentingrevolution.com/BA2/mugshot-homer.htm
"He who has a strong enough why to live for, can bear almost any how." - Friedrich Wilhelm Nietzsche (1844-1900) German Philosopher, Poet
Rooftop Porch - Smoking Lounge

Clean up your butts pleeze

"A woman drove me to drink and I didn't even have the decency to thank her."
-W.C. Fields
DenVUH!!
W drinks beer: http://www.thestardoll.com/stardoll/21/George-Bush-Beer.html
Ratebeerians!
2003, 2004 & 2005 Location ~ Top Floor, Corner Unit
Firestone Walker presentation at Falling Rock
John of Boulevard Brewing
Matt (left) lives in this building and kindly lets us play - please thank him
"Everybody has to believe in something.....I believe I'll have another drink."
-W.C. Fields
"[I recommend]… bread, meat, vegetables and beer."
-Sophocles' philosophy of a moderate diet
"Why is American beer served cold? So you can tell it from urine."
-David Moulton
"This is grain, which any fool can eat, but for which the Lord intended a more divine means of consumption... Beer!"
-Robin Hood, Prince of Thieves, Friar Tuck
"You've been rubbing my nose in it since I got here! Your family is better than my family, your beer comes from farther away than my beer, you and your son like each other, your wife's butt is higher than my wife's butt! You make me sick!" - Homer Simpson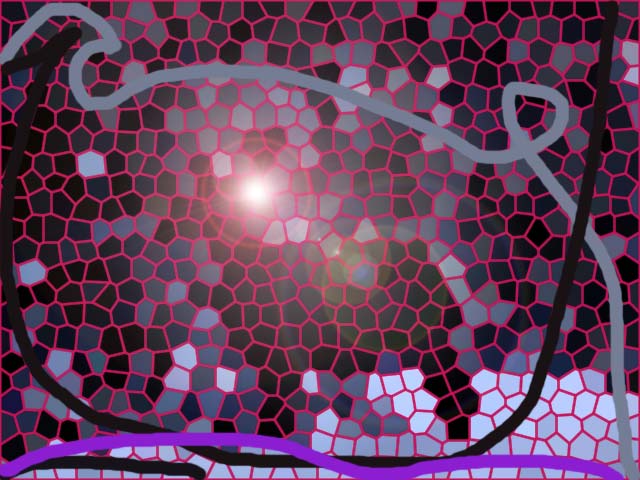 "Not all chemicals are bad. Without chemicals such as hydrogen and oxygen, for example, there would be no way to make water, a vital ingredient in beer."
-Dave Barry
"I'm going to buy a boat... do a little travelling, and I'm going to be drinking beer!"
-John Welsh, Brooklyn bus driver who won $30 million in the New York lottery
Brilliant...we'll just drink large quantities of beer and get in this hanging chair and spin!!!
Remember: No Puking on the Premises!!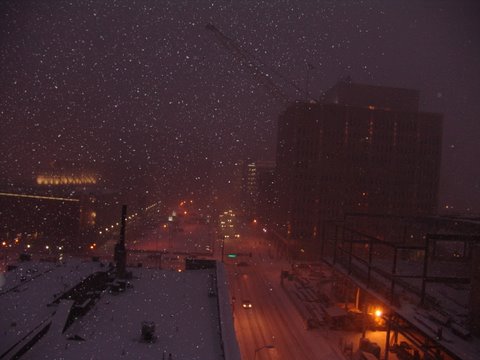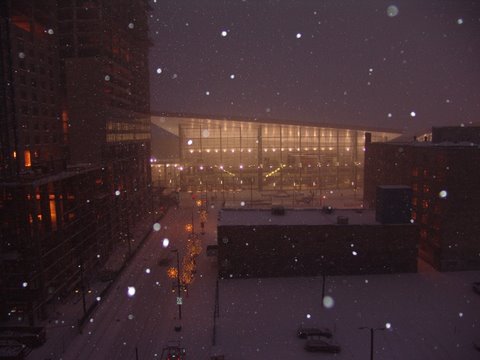 Denver in Wintertime, 2004
"I like my beer cold... my TV loud... and my homosexuals flaming." - Homer Simpson
"Steve: I bought this for the novelty, because it has a chili floating in it. I thought it would be neat...it turns out it's to warn off anybody who wants to try it as a novelty! I poured this beer last night while sitting down with a bowl of chili, took one sip, and almost died. It tastes EXACTLY like liquified, extra-hot, chili. Which is the last taste you want when drinking beer. This was absolutely undrinkable!!! (also note: There is a light version of this that I will NEVER review. EVER! Nor will we respond to requests to review it.) I hope this brewery goes out of business before they polute the earth with more of their malted monstrosities. THIS BEER SUCKS!!!" From: http://www.tobp.com/review/beer.asp?t=17 review of Crazy Ed's Cave Creek Chili Beer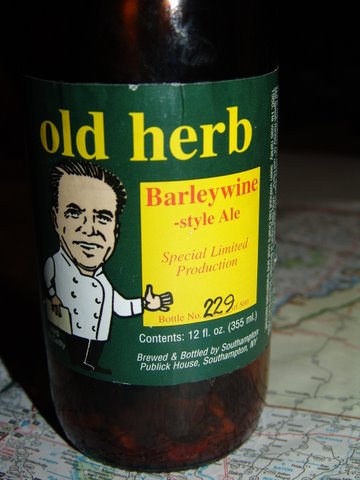 "I am a firm believer in the people. If given the truth, they can be depended upon to meet any national crisis. The great point is to bring them the real facts, and beer."
-Abraham Lincoln
"We old folks have to find our cushions and pillows in our tankards. Strong beer is the milk of the old."
-Martin Luther
Continue to be very afraid!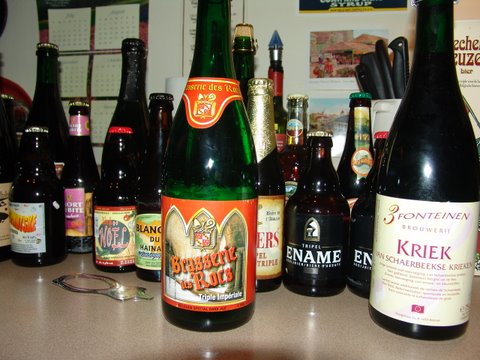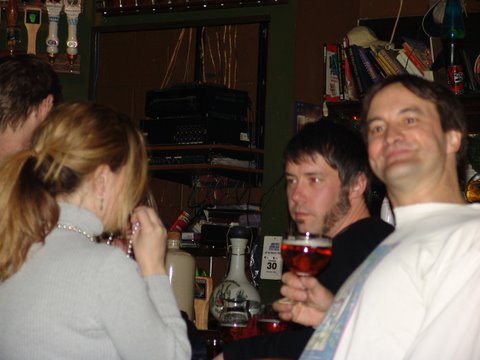 "Who does not love beer, wine, women and song remains a fool his whole life long."
-Carl Worner
"When I read about the evils of drinking, I gave up reading."
-Henny Youngman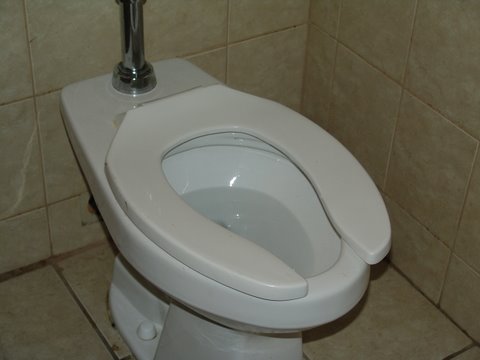 "Time is never wasted when you're wasted all the time."
-Catherine Zandonella
"You can't be a real country unless you have a beer and an airline - it helps if you have some kind of a football team, or some nuclear weapons, but at the very least you need a beer."
-Frank Zappa
| | |
| --- | --- |
| I feel sorry for people who don't drink. When they wake up in the morning, That's as good as they're going to feel all day. | Frank Sinatra |
I'm starting to feel it...
"It's better to be looked over than overlooked." - Mae West (1893-1980) American Actor, Writer
"Books are quiet. They do not dissolve into wavy lines or snowstorm effects. They do not pause to deliver commercials. They are three-dimensional, having length, breadth and depth. They are convenient to handle and completely portable." - Anonymous
"A bar is better than a newspaper for public discussion."
-Jim Parker, on the importance of a healthy pub culture
###
Denver, ColoRADo
This photo is totally unrelated to the party!! Details
Europe 2004 pics below including some of John White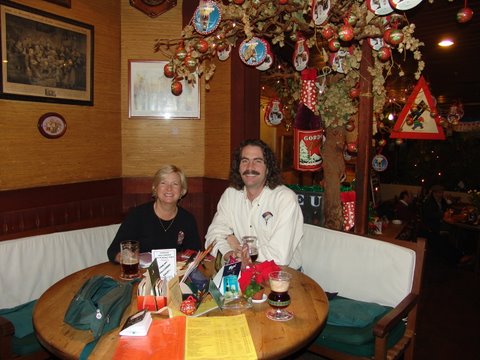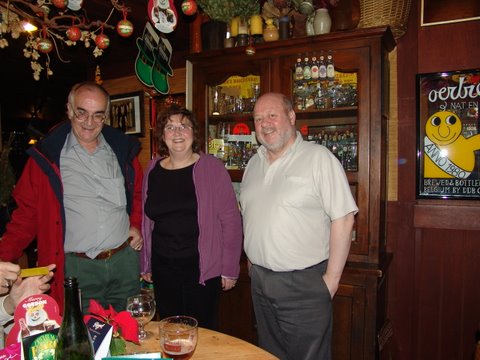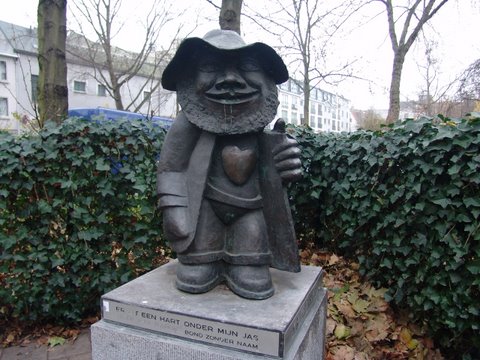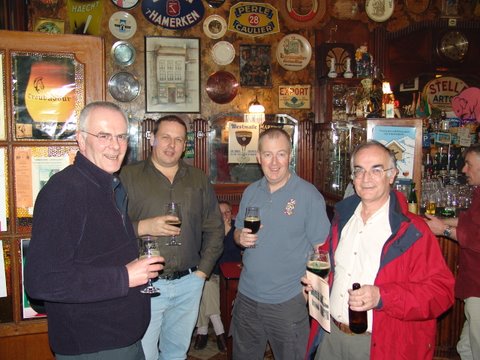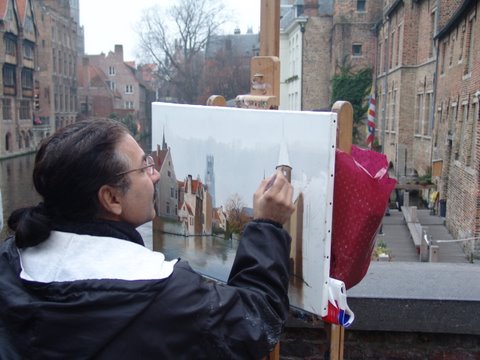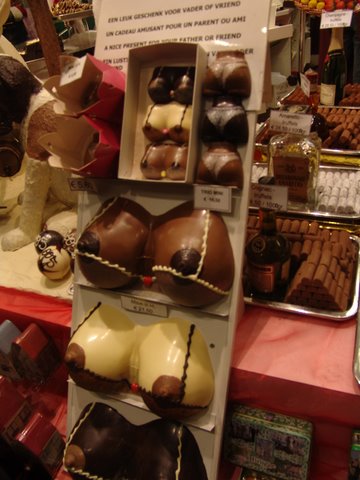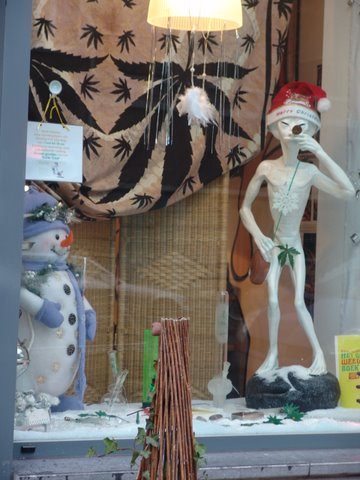 Livable Cities Home -- Livable Cities Sitemap
The Priorities Institute -- The Priorities Institute Sitemap -- Beer Pages -- Art Pages -- Animals
Livable Cities Online Magazine
ISSN #1099-3231
Livable Cities is an Online Magazine from The Priorities Institute